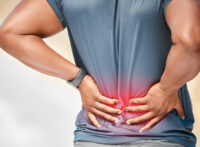 Are You Suffering From Back Pain?
Roach Family Wellness can help treat back pain you are suffering from at one of our two Orlando, Florida, area clinics. We see individuals in both Altamonte Springs and East Orlando that may be experiencing back pain from chronic ailments or from suffering an injury. 30 million individuals are currently dealing with back pain, and we have an experienced chiropractic team that will put together a plan to help you recover and treat your issue.
Back pain can be caused by a variety of different issues, including trauma, disease, misalignment, poor posture, and even stress. We look at all the different methods how to care for your pain that may affect your muscles, bones, or ligaments.
Back Pain Injuries We Treat Include:
Disc Bulges
Herniations
Subluxations
Previous Surgery
Strains/Sprains
And More
Neck Pain
This can be from posture, looking at the phone or computer, or even driving too much. You need to identify the problem and make a plan to fix it. If it is a disc problem, we can help you. If you need to learn how to exercise, we can help you. Commonly causes radiating and shooting pain to the shoulders, down into the hands, or even contributes to headaches.
Shoulder Pain (Frozen Shoulder/ OTZ)
Dr. Roach is specially trained in OTZ methods and treatment for frozen shoulders. He will assess you're your posture problems and make a program of care to get you more functional. In some cases, there is instant relief and movement. In some cases, several months of care are needed.
Headaches
Headaches can vary from a regular headache to a migraine and from a regional headache to a complete headache. There are different types of headaches, as well as different types of migraines. It is important that your certain type of headache is properly diagnosed and treated so that positive results can be achieved. Chiropractic care will not only reduce the intensity and frequency of your headaches and/or migraines, but it will maintain under control the stressors that cause the headaches and migraines in the first place. Let us help you take control of your headaches and migraines at Roach Family Wellness.
Vertigo
Vertigo is usually caused by the balanced centers in your inner ears not being stable or not functioning at their full potential, sometimes even problems with certain parts of the brain. The usual sensation is that you or the environment around you is moving or spinning. This can eventually cause loss of balance, sickness feeling, dizziness, headaches, etc. Chiropractic adjustments on the neck region have been shown to diminish vertigo symptoms, eventually reducing them to a minimum and/or not ceasing the vertigo attacks. If you are experiencing vertigo, don't doubt Roach Family Wellness in finding the solution.
Hip & SI Joint Pain
The SI Joint is made of the meeting point between the lumbar spine, the hip, and the sacrum. When the low back, the hips, and/or the sacrum are not functioning correctly, they can radiate pain toward the SI joints. If you are experiencing low back, hip, and/or sacrum area pain is more than likely that your SI joints are hurting as well or are not moving as they should. Here at Roach Family Wellness, we are known for finding the root cause of the problem, and we will be able to bring back your low back, your hips, your sacrum, and your SI Joints to function at full potential.
Wrist, Elbow, and Hands
If you are dealing with a wrist injury or have chronic pain in your arms, elbow, or hands, you should give Roach Family Wellness a call. We treat pain due to repetitive activities or unexpected injuries. Oftentimes, we can help you avoid surgery with proven chiropractic treatments. Some of the injuries we treat are:
Golfers/Tennis elbow
Epicondylitis
Carpal Tunnel
Graston treatments, laser
Neuropathy – PEMF Therapy
(Pulse Electro Magnetic Field Therapy)
Over time the cells in our bodies begin to lose their energy. The reduction of your cell's energy is the root of many pains your body may be facing. When the cells in your body remain healthy, your body will remain healthy.
Click Here To Learn More About PEMF