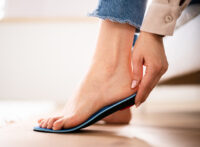 Foot Orthotics
Our feet are the workhorses of the human body, providing us with support and allowing us to walk, run, jump, and stand up straight. But when our feet hurt, the pain can resonate upwards, reducing our quality of life and making regular tasks an agonizing feat. If your feet, ankles, knees, or hips hurt, or if you suffer from having flat fleet, low arch support, plantar fasciitis, bunions, or another foot issue, custom orthotics from our chiropractor in Altamonte Springs, FL, may be your perfect solution! Our custom orthotic appliances are prescribed medical devices made individually for your feet using high-quality, long-lasting materials for results that best benefit your needs! Contact us today to schedule an appointment and learn more about our nonopioid, nonsurgical, and noninvasive custom foot orthotics made specifically for you!
A Customized Solution For Foot Pain
Has your foot pain caused you to avoid activities you love, like long walks or running? Or perhaps your foot pain has limited the time you can spend on your feet. For individuals with pain stemming from their feet, making their way from place to place can be difficult and distressing. Patients with foot pain may seek solutions like a foot pad or heel inserts purchased at their local drugstore or big box store.
Yet, these one-size-fits-all orthotic products cannot provide the individualized, unique correction required by each person, nor do they address the root cause of the pain. But you can get custom-made, prescribed orthotics from Roach Family Wellness in Altamonte Springs, FL! Unlike store-bought orthotic appliances, prescription orthotics are built perfectly for your feet and their corrective needs.
What Are Custom Orthotics?
Orthotics are foot pads or heel inserts that support the movement of the feet. Custom orthotics, from Roach Family Wellness in Altamonte Springs, are specially designed for each patient and their foot condition. Orthotics can effectively reduce or eliminate foot, back, knee, and hip pain; low foot support; flat feet;, bunions; and other related conditions. Wearing instant custom orthotics can help restore ankle function, foot deformities, and more.
How Custom Orthotics Are Made
Here at Roach Family Wellness, our chiropractor uses a special, on-site foot leveler scanner station to help diagnose each patient's foot problems and subsequently designs orthotics insoles customized for them. When a patient stands on the foot leveler scanner, the scanner captures the precise alignment of the foot and ankle, detecting any irregularities or imbalances and providing information about how these irregularities or imbalances affect the patient's ability to stand, walk, and run comfortably. Our chiropractor then develops customized orthotics based on this information. For more information about how each custom orthotic is made, contact our office!
Reap The Benefits Of Custom Orthotics
Roach Family Wellness makes customized foot orthotics for your specific medical condition, whether you're looking for an effective way to manage your pain, correct a deformity, or simply improve your comfort and health while walking, running, or standing. Unlike prefabricated orthotic appliances, our custom orthotic treatments are made just for your feet.
Wearing custom orthotics for flat feet, back pain, ankle pain, knee pain, heel pain, or other conditions can relieve your pain and help you avoid future injuries. For those with high foot arches and other structural complications, our custom orthotics can make the corrections required to restore your function and optimize the balance of your feet, preventing further problems or injuries.
What Conditions Can Custom Orthotics Treat?
Our chiropractor prescribes custom orthotics for feet for several reasons, including back pain, hip pain, knee pain, ankle pain, flat feet, high arches, plantar fasciitis, bunions, hammer toes, and other conditions. The best way to determine whether you can benefit from orthotics is to contact our practice.
Back Pain
Back pain can result from various causes, including health conditions, injuries, accidents, poor posture, and misalignments in the feet and ankles. Foot and ankle misalignment can alter your walking pattern and posture, resulting in back pain. In addition to our chiropractic and spinal decompression treatments for back pain, orthotics for back pain can correct misalignments and diminish or eliminate the pain.
Flat Feet
Flat feet, also commonly referred to as fallen arches, is a condition in which the inner part of the foot lies directly on the ground, meaning there is no space between the inner part of the foot and the floor when you stand. Having flat feet can prevent the adequate distribution of weight across the feet and legs, resulting in pain. Custom orthotics for ankle, heel, and foot pain can help eliminate the pain and correct imbalances.
Plantar Fasciitis
Our practice uses orthotics for plantar fasciitis to treat the condition and reduce its associated pain. Plantar fasciitis is the inflammation of the plantar fascia, the tissue in the foot used for walking and moving the foot. Our orthotics for heel pain can be combined with MLS (Multiwave Locked System) laser therapy, among other available treatments, to eliminate pain caused by plantar fasciitis and its related symptoms.
High Arches
Individuals with high arches can experience pain and foot-related issues due to the lack of weight distribution over a larger area of the foot and instability. This is particularly true when the shoes worn do not provide adequate support. Our custom high-arch orthotics offer the perfect support your foot needs to feel comfortable.
Bunions
Bunions are bony bumps on the far joints of the big toes. Individuals with bunions often suffer from limited movement, ongoing discomfort, pain, and worsening symptoms over time when the issue persists. Orthotics shoe solutions from Roach Family Wellness allow patients to avoid bunion surgery while reducing pain and restoring function.
Hip Pain
If you have hip pain, you may benefit from getting customized orthotics for hip pain from our practice. Custom orthotics are highly recommended for treating hip problems by tackling the issue from the ground up. Custom orthotics can help improve alignment and reduce stress on painful and uncomfortable hips and joints.
Knee Pain
Orthotics for knee pain are specifically designed to relieve arthritis and pain in the knees. This effective therapy can treat and prevent certain types of knee pain and reduce the severity of knee pain in severe cases. When combined with knee decompression, custom orthotics can eliminate pain from your knees and restore your function and comfort!
Step Into Pain-Free Living With Custom Orthotics
If you experience chronic pain and discomfort in your feet and body, you may have already attempted to treat the symptoms with traditional treatments and over-the-counter or prescribed pain medications. Or maybe you've resolved to tough out the pain. But with custom orthotics from Roach Family Wellness, you don't have to suffer from pain and discomfort.
When it comes to pain, oftentimes the longer a patient puts off treatment, the worse their pain will become and the lower their quality of life will fall. Don't wait! Contact our chiropractor today to book an appointment for a diagnosis and individualized treatment plan, and start your journey back to pain-free living!