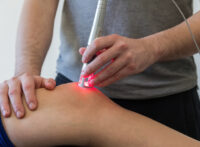 MLS Laser Therapy In Altamonte Springs, FL
Discover the remarkable healing power of MLS laser therapy! Patients who experience chronic pain and discomfort have options for finding an effective, noninvasive, and safe treatment approach. Laser MLS therapy is an FDA-approved, highly popular, nonsurgical, and drug-free modality to target and treat pain without using drugs, injections, or other invasive interventions.
MLS (multiwave locked system) treatment is the most advanced system using laser therapy that helps patients struggling with a range of pain symptoms and pain-causing conditions. Roach Family Wellness offers cutting-edge laser therapy in Altamonte Springs, FL, to combat chronic pain and discomfort and to stimulate the natural regeneration of cells for the benefit of our patients. Contact our chiropractor in Altamonte Springs today to schedule a laser therapy appointment!
Stop Pain With Gentle, Low-Level Laser Therapy
Advancements in medicine and medical technology transform the way clinical practitioners approach treating pain and pain-causing conditions. Laser treatment is commonly used in other medical fields for dermatological and surgical purposes. Did you know that laser therapy can also effectively stop your chronic pain? In fact, MLS laser therapy has transformed the field of chiropractic, proving to be an invaluable tool for treating body pain.
With low-level laser therapy, our chiropractor can quicken recovery time, help our patients find individualized treatment with speedy results and instant pain relief, and precisely treat the root cause of the pain and inflammation. Call Roach Family Wellness today to learn how laser therapy for pain can improve your quality of life! Laser therapy can be used to treat a wide range of pain conditions and health problems, including the following.
Arthritis
Joint Paint
Back Pain
Neck Pain
Sciatica Pain
Fibromyalgia
Plantar Fasciitis
Neuromas
Neuropathy Pain
Sports Injuries
Tendon & Ligament Injuries
Muscle Strains & Pain
Tendonitis
Wounds
Post-Surgical Swelling
Disc Problems
How Laser Therapy For Pain Works
MLS laser therapy is an FDA-cleared, class IV technology that synchronizes dual wavelengths with continuous and pulsed emissions to provide the most advanced laser pain therapy system available today. Unlike other lasers and early-generation laser pain technology, MLS laser therapy can deliver controlled, targeted laser energy for a more accurate therapeutic dose and delivery with highly consistent and replicable results when performed by our Altamonte Springs chiropractor.
With high levels of effectiveness, safety, and consistency, the laser delivers therapeutic wavelengths 808nm and 905nm for anti-edemic, anti-inflammatory, and analgesic effects that minimize risks of thermal damage. When these laser light therapy wavelengths deeply penetrate damaged cells in the body, the light stimulates surrounding tendons, ligaments, and muscles, prompting the natural healing process to work at a more rapid rate. This from-within repair means the damage causing the pain starts to reverse for less pain and discomfort with each laser deep tissue therapy session.
Reap The Benefits Of MLS Laser Therapy
Patients suffering from chronic pain can benefit from laser pain treatment in various ways, in addition to its healing capabilities. The following comprises a number of the benefits to patients who undergo MLS multiwave locked system treatment from Roach Family Wellness.
Quick pain relief
Strong anti-inflammatory effect
Nonsurgical approach
No prescriptions or drugs
Fast healing of affected areas
Rapid healing of structural regions with damage
Speedy resolution of swelling
Instant improvement to local blood circulation
Repair of superficial injuries, like wounds or ulcers
What To Expect During Laser Pain Therapy
MLS laser treatment for pain and inflammation is virtually painless. Patients report feeling little-to-no sensation from the treatment. Most session take 10–15 minutes to complete, yet this depends on the size of the area affected and the patient's reason for treatment. Depending on your individualized treatment plan, you might undergo 2 or 3 MLS laser therapy sessions weekly.
Most patients take up to three treatments before they notice an improvement to their condition. Patients with chronic or severe cases may require 10–12 treatments before experiencing full benefits. It is critical that once patients start MLS laser therapy, they complete the course of treatments recommended by our chiropractor or the pain is likely to reoccur. For more information about what you can expect during laser therapy, please contact Roach Family Wellness.
Recovering After Laser Therapy
The majority of patients who undergo laser therapy for pain report minimal-to-no side effects following their sessions. The most common side effect for the patients who experience them is a temporary, subtle increase in pain directly following the session, which dissipates soon after that. Some patients may experience swelling or redness at the treated sites, which should also dissipate quickly.
Among the numerous benefits of laser therapy is that no downtime is associated with this treatment. Patients may be asked to avoid exercising, strenuous activity, and direct exposure to sunlight in the days following each session. Otherwise, patients may resume their normal activities after their laser treatment for back pain in Altamonte Springs, FL.
Why Choose Roach Family Wellness For Laser Therapy?
At Roach Family Wellness, our chiropractor in Altamonte Springs, FL, is committed to your recovery and healing, offering effective, safe, noninvasive treatments, and therapies designed to target your unique pain and health conditions using state-of-the-art technology and innovative techniques. Our gifted chiropractor has years of experience treating a wide range of pain-related conditions and ailments with a team prioritizing delivering you the highest quality of care possible. Contact our chiropractic practice today to learn more about our laser back pain treatment and schedule an appointment to get started!