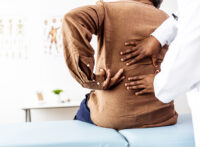 Sciatica is radiating pain down the legs. This is typically caused by a disc injury where the disc material is pressing on the area where the nerve comes out of the spine. This causes shooting debilitating pain.
Roach Family Wellness can treat pain and discomfort that results from sciatica. Sciatica is a shooting pain that can go down the leg, emanating from the lower back area. We can treat pain and provide a plan for managing the pain at our two Orlando, Florida, area clinics in either Altamonte Springs or East Orlando. The chiropractic team at our clinic will look at all regions of the spine to find the root of the problem, including the lumbar and pelvic areas.
We will find all methods of treatment to help correct the issue and alleviate or manage your pain. Our goal is to help you manage the pain so that you can live in comfort so that sciatica pain does not pop up out of the blue. If you are experiencing sciatica pain from your back all the way through your lower leg, come to Roach Family Wellness for a consultation, and let us start a treatment plan on your behalf.
We can help you with:
Spinal decompression
Chiropractic adjustments
Physical Therapy
Rehabilitation
Braces
Supplementation