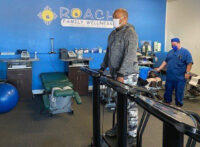 Physical Therapy & Rehabilitation In Orlando
Here at Roach Family Wellness, we have all the equipment and expertise needed to help you relieve your aches and pains with physical therapy and rehabilitation.
Some of the benefits you will receive from being treated by our physical therapy staff and their diverse equipment are relief of pain, improvement of movement and ability, prevention and/or recovery from sports injuries, prevention of disability and/or surgery, and improvement of balance and proprioception (Sensation of Surroundings).
Physical Therapy Services Offered
Ultrasound
Electrical Muscle Stimulation (EMS)
Hot/Cold Therapy
Intersegmental Traction
Pettibon Tendon Ligament Muscle Stimulator (PTLMS)
Full rehabilitation gym
Cold laser
Manual therapy
Graston
Cupping
DRX 9000 spinal decompression therapy Cervical and Lumbar
Vibration therapy
Neuropathy treatment
Posture equipment
Posture Retraining
Kinesiotaping
Give us a call at Roach Family Wellness, so we may provide you with the physical therapy and rehabilitation equipment and expertise you need to get you out of pain.